Organisation & History

Organisation
The Pierre & Vacances-Center Parcs Group has implemented its Sustainable Development approach since 2005. This approach is now managed on a group-wide basis by the Sustainable Development Division and covers the Group's two businesses, property development and tourism.
History
The Sustainable Holidays Programme 2008/2011
This programme was created in order to contribute positively via the property development and tourism businesses, throughout the life cycle, in three main areas: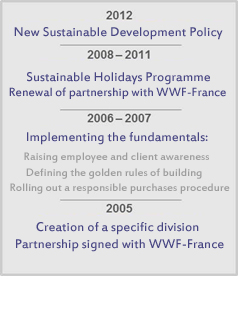 fighting against climate change: improving the energy performance of buildings, optimising management of the sites' energy consumption, mobilising all stakeholders, including clients.
preserving natural resources: implementing management tools enabling management of actions to reduce drinking water consumption, optimise sorting, reduce waste, responsible management of green areas, raising public awareness, favouring purchases of environmentally and socially responsible products and services.
acting as a responsible player: encouraging the integration of diversity in the company, bolstering the disabled persons recruitment and integration process, training staff members in good environmental practices, integrating delivery of commitments in management procedures.
Via this programme covering both the property development and tourism businesses, the Group clearly showed its aim to make sustainable development a fundamental value in its corporate strategy.